Jennifer say:

The story of DD
At around Chinese calender August 14 (English date is around sept) last year, mum and I were going to Chinatown when we saw three kittens and their mother at the void deck of Blk 547. One of them is little tiny DD. We placed the family at our void deck. The next day, DD's mummy died. I took her 3 orphans home. All of the kittens were only one month old at that time. When i first took them home, i wipe them with a cloth. For their meal, they are able to eat wet canned food mixed with rice.
I am not so scared to handle 3 playful kittens as at that time, i already had experience handling cat -sweetie was our home cat for around 7 months. I remembered long time ago when Auntie L told me to keep baby's sister that had a limpling leg, i was scared. That time althought i fed cats, i had never carry or taken care of cats before. I took care of the limping cat for only 3 days, i also remembered to be worried that the cat would died in our care but she did not died that way. Baby's sister was a community cat too..Someone whom we suspected to be kids stepped on the legs and she was unable to walk. Baby's sister was unfortunately in rainbow bridge now as apparently, someone fed something to her - she was poisoned.
One day after Baby's sister was taken away for an more experienced cat lover to take care, Mum 'kidnapped' sweetie home as mum sensed that we missed baby's sister. Smart sweetie then learnt how to come to our house by climbing the stairs till she found our unit on the 8th floor - she did this 4 times. Sweetie even changed her hideout - she used to hide at the brushes near the Park at B543..One day after we had fed her, she followed us to our block and even since, she refused to leave our block, she would hid on the second floor..every time someone passes by the lift, she would see if that person were us, if YES, she would meow happily down the stairs to find us...she stayed on the second floor for 2 to 3 weeks.
On the day sister left for HK for an study exchange program, i took sweetie home at 17 Jan 2005 and sweetie offically become our home cat. Strangely, dad that used to dislike cats accepted sweetie, then DD, then KK and Ou Du Du.
Well.. DD is accepted as she is only a tiny orpan at that time, dad said she is very 'kelian'(pitiful) without a home. KK and Ou Du Du are accepted as they are our house 'fortune cats'... Dad stike 4-D one week after they arrived. And dad started to feed his community cats at his workplace shortly after we adopted sweetie. It is amazing how cats can influence people's lives and change them.
I kept DD as i like how she love to play 'foster mum' to her two siblings by allowing them to suck her nipples and even groomed them. Aslo DD has the most 'special' colour, she is the baby clone of her mummy. DD and her siblings stayed together for two weeks before she was seperated. That day her siblings left her, she cried for a very long time. Poor DD.
Why is DD named 'DD'?
We choose this name as we were 'inspired' by the TVB drama,
Golden Faith
. One of lead actress, Myolie Wu Hang Yee played a dim-witted girl with a teddy bear whom she named it DD xiong. This is how we choose that name for our DD.
Her current Nicks:
DD Xiong ( as in the TVB drama)
Feather ( as she had lot of fur around her neck, the result of a well care cat)
Little princess (sweetie is our queen and DD has to be her little princess)
From Tiny to mini to Giant
Slowly DD grow and grow. From a tiny kitten, DD grow up big and beautiful.
Photos of tiny DD to gaint DD: from left to right:
1st row: -Tiny DD at around one month old with her brother
- Mini DD at around 2 months old at brother's bed.
2nd row: - Two month old DD on top of my bed's radio
- Five month old DD sleeping on our sofa
last row: - 7 month DD on top of a chair
- 7 month DD inside plastic bag
- 8 month old DD on brother's bed again
DD has learnt all these tricks so far:
1) toilet trained
2) Allowing us to carry her like baby
3) Can put her as our poster girl
for eg this:
OR this:
4) Is very friendly and makes friends easy with sweetie, Or Du du and KK. Sweetie used to scold DD when she come to find her. But DD was never scared. DD keep finding sweetie till sweetie accepted her. Now, they are best pals - fight together and play together. Except Sweetie do not allow DD to sleep on my bed beside me. It is a bit crampled with Two cats besides me but when i arranged them to sleep side by side, DD will always run away. When sweetie is not around, DD will sleep on my bed.
5) Know how to respond when she is happy esp when we asked her if she wanted " Mum Mum"
6) like to stay around people esp mum when she is reading newspaper
Her 'NOTTY' bad habits:
1) Meow early in the morning when mum wake up. DD will keep meowing till Mum opened our bedroom door
2) Make a mess of her legs when she pees. She always step on her pee so we always need to wash her legs.
3) refused to eat rice with fish now..she only accepts dry food
4) like to bite our hands if she do not want us to carry her - without warning
5) Sometimes, DD pee 'secretly' on the toilet floor. As she is already toilet trained, she always know she can only pee on the toilet. But the problem is when no one know she had pee and entered the bedroom overcome by the bad smell. Eeeeee
6) Hiding under my bed when someone come to our house..there is no way to introduce DD to that person.
More photographs of DD
This is how DD looked like now:I had give her another nickname: feather
At 9 months old(taken on Aug 21):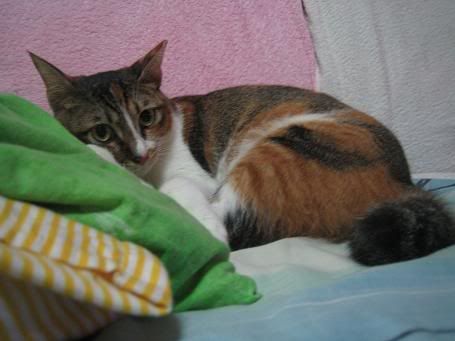 This is DD with her sister, Sweetie: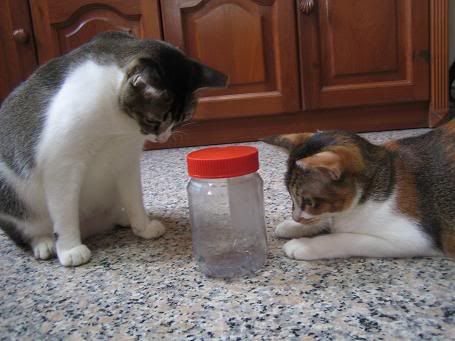 More picture of baby DD:
One month old DD: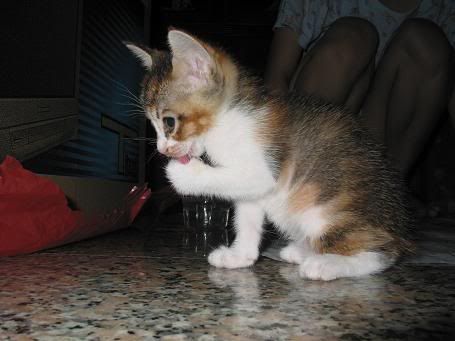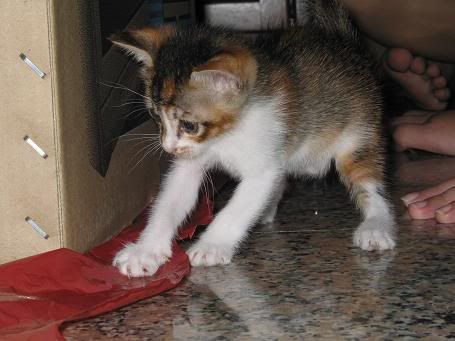 DD after her drink and kaypo with our camera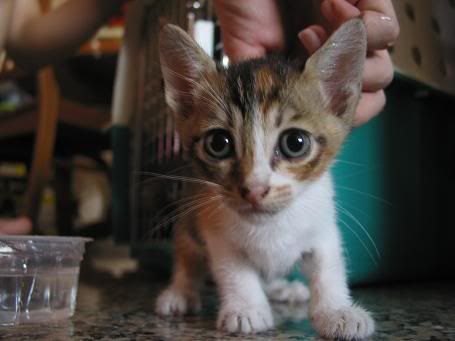 3 in a cage.. Poor DD's siblings, they are now MIA, I think they are caught.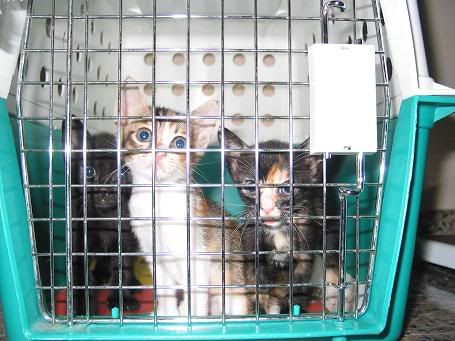 DD now weighted 4 kg...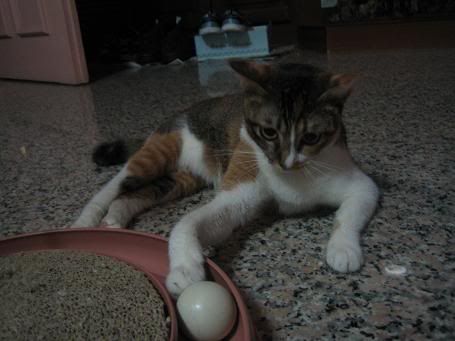 DD with her new entertainment at home. Yesterday, she had been playing with a tiny piece of plastic bag. She make some werid meows whenever she played with the tiny koala toy or the plastic bag. Mum said it is like mummy meowing for her kittens to come to play. Ya, i agreed.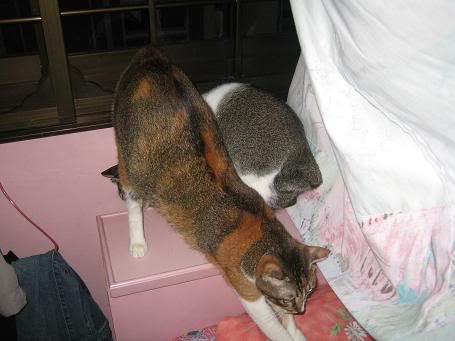 A fat DD and her sister, sweetie. I do not know what are they both doing on my bed..must be doing something 'notty' as DD was running away.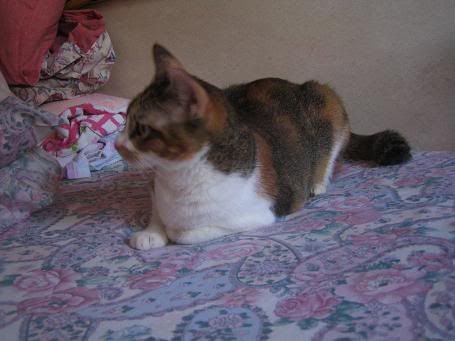 DD on my mum's bed. She was not allowed to jump on my mum's bed. But my mum was sleeping so DD decided to jump on my mum's bed to 'keep her company'.