Jennifer say:

Today, sister and I went to Singapore Expo to watch the cats show. At around, 1.30 pm, we left home. We went to Shop N Save and guess whom we see? Greedy san pi pa looking at people eating and waiting vvv patiently. Now, this is dangerous. We did not have any cat food with us so we went up to SNS to buy a can of food (so exp). Then sister carried pi pa to Blk 543. We tried asking him to follow but he seem to think that the other people's junk food is much nicer and refused to move. Pi pa ate only a bit. I am surprised that pi pa is still so skin and bone after we had feed him for 3-4 months. At night, Pi pa seem fatter and had a round belly. In the morning, he is skin and bone. After Pi pa refused to eat any more wet food, we had to take the leftover home. At first, i thought of leaving the leftover in our letterbox but it may turned bad. So we came home again and put the food in the fridge. Mimi can eat the leftover later, yummy!
We took bus 72 to Tampines Interchange and took MRT to Expo. We had to walk all the way from hall 6 right to Hall 1 - it is like an neverending walk but at last!! We arrived at hall 1b at 3 pm plus.
We took a look at the show cats in the cages... very beautiful cats.... After that we looked around for CWS booth. Sister saw one blogger(
simple life
) that we get to know from her blog but never talked before. We recognised her from her blog photographs. We said a quick hi to her..how nice to meet fellow bloggers whom love cats as well.. I still do not get to know
5-cat style
, only saw her back but since she is busy, we did not really said hi.
We then contined to take a look at the many cats in their cages - some poor kitties are so scared that they cornered themselves into a ball - the aircon is really strong so they must be both scared and cold. I remembered sweetie also curled into a caterpiller when she slept in mum's bedroom with aircon on.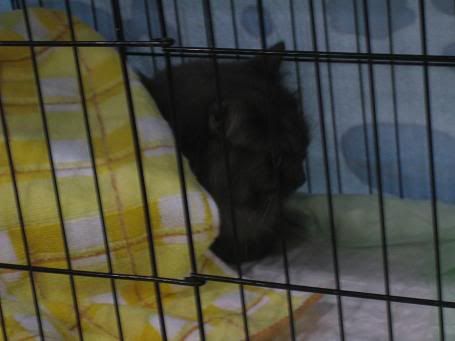 The owner covered this 'pong pong lookalike' cat with a towel to protect it from the cold. How cute he/she is.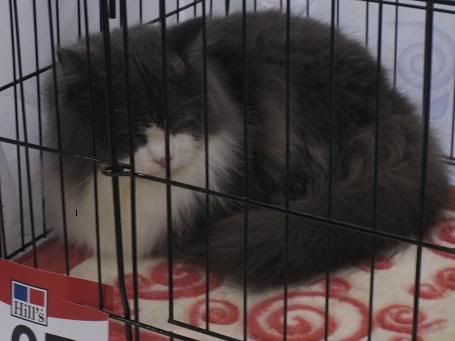 This baby here is so sweet, i love the fur.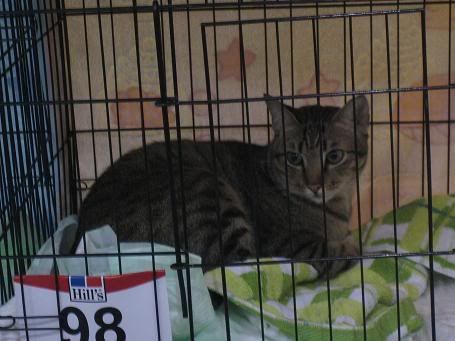 She reminded me of one of my community cats - baby.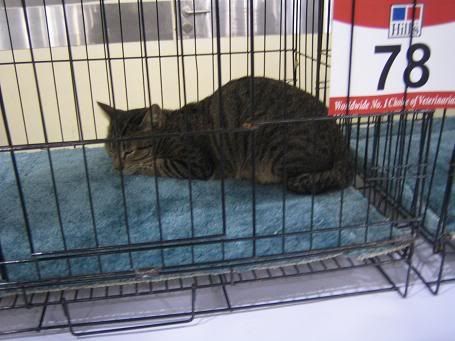 No 78. cat also looked like baby. There are actually lots of local tabby cats around - not all are expensive cats.
After our satised look at the cats, we went back to CWS booth. We bought 2 t-shirts of $16 each. Sister was rather 'choosy'. She said that she did not wanted to buy 'sad' picture of cats T-shirt. The black one i bought is rather cute. Sister also bought a books consisting of singapore cats called " The Real Singapore Cat". I am quite sad to see the bloody nose cat and the dead cats when i flipped over the pages. But still, there are lot of cute photos to look at and admire how well taken care they are - They do not live in the street alone - there are others caring for those poor babies.
We also bought a book from the booth behind CWS. It cost $10, the book name is "More than a dog's life". The author is quite a friendly guy. From the moment we stepped in, he had been asking people to buy his book. Then out of curosity, we went to see what book he is selling. Well, since he said $2 will go to CWS, i bought the book.
We met Auntie L. Auntie L offered to take us home. Sister had to go elsewhere and Auntie L's husband was nice enough to take her to there as well.
As we had to wait for Auntie L, we sat down to watch the cat show. Actually i do not know what was the judge doing by touching here and there all over the cat. I meant how is the judging actually done - by colour? by how tame is the cat? by how well groomed is the cat? - well, i am pluzzed as this is the first cat show i even attended. Some cats are very scared when the judge tried to get the cat out of the cage. In the end, the cat owner had to get the cat out - will marks be deducted for this? Sister was saying the judge took out so many cat, wasn't she 'sian'?
We stayed till 5 pm and took Auntie L's car home.
When i reached home at 6 pm, sweetie follow me around the whole house. When she does that, it meant she demanded her dinner to be served to her asap. I warmed up her fish and rice. I thought of boiling chicken for mimi but it was still frozen after 8 pm. So in the end, i decided not to feed mimi chicken today. I warmed up san pi pa afternoon leftover and put some chicken from our yesterday's dinner for mimi, ginger and pi pa.
Today, we did not meet any dog owner..this is lucky..yesterday, san pi pa had the nerve to try to touch a dog. ..but the owner did not say anything to us... we hoped that our luck will stay - no complaints, no one will find problems with us and best of all, our cats will be safe from the evilness that had threaten to get rid of every community cats in our area.