Jennifer say:

Comment: A very good taiwanese opera by
楊麗花. But one bad point is some VCDs esp toward the ending are jumpy.It is mentioned in one site that Yang Li-hua, is using locations in Jiangnan (Zhejiang and southern Jiangsu) to film her new drama, Affection Between Ruler and Ruled.(君臣情深).No wonder some location esp the river part are extremely nice. China has such a wonderful view, how i wish i have the bamboo jade horse or the magic carpet like this show. The magic carpet remind me of Addadin sort of Princess Jasmine as this time, the owner of the magic carpet is a woman instead of a man.
It bit of confusing, here the v funny parts:
1) Father and son are born in the same year, same month and same day.
father and son are the same age. Is it called fate or is it supposed to be this way so that in the end, they can be siblings instead of father and son. It funny when it linked to point 2.
2) What i say is what is the truth is even thought i am not crazy.
ppl accepted that wongwenying was reborn again. I find it amusing when the emporor told his ministers that wong wenying had reborn as chowhu. If i am one the minsters, i will have question marks written on my face and considering to send the emperor to the hostel in hougang for special treatment. But in the past, what emperor say was what was to be learn, no word of protest like "hei, didn't he already die, why he back." I meant why his ministers accept what was supposed to be deemed to be the truth as it happened to pop out of the emperor mouth. And the emperor even can designated the same position to the new reborn wong wenying (as what his position was before he died) without again protest from his ministers.
3) Many wives are good for harmony
Another thing i find it funny are why father wong wenying and his son, wong bodong must each have 2 wives. It funny why ppl in the past accept many wives while in modern world, 2 wives meant the end of the world.
Even worse is before wongwenying died, he had 3 wives and all his 3 wives live in harmony. Ha..there a word say that 2 woman make a market (or something like this), with 3 women as wives, i wonder how is it supposed to happen.
4)Aunt and Neice can share the same husband
In the after life, wongwenying youngest wife was reborn to be daughter of wong eldest wife sister named ruhong. So in fact, the eldest wife and the reborn ruhong are aunt and neice. But it was accepted that they can still share the same husband even of their complicated relationship. Didn't accient ppl enjoy dragging ppl into pig sack to be drowned, if yes, how can ppl accept the complicated relationship. But in the end, the eldest desperate housewife decide to be a nun for the rest of her life.That is why i find her miserable. She got a son, she got a reborn husband and she care about how she look now at age 40 as compared to her reborn husband. If she did not care abt her relationship earlier with ruhong, why she care how old she is. Anyway in modern world, it is the trend to have older wife and younger husband esp the celebrity world.
5) Always marry your enemy daughter
In the show, there are two special parts where marrying enemies daughers. The first is wong wenying marrying xing yuexia. Xing yuexia's father was the main cause for wong wenying dad to die. The second part is where wong bodong (wenying son) marry pang qiuxiang. Pang qiuxiang is the granddaugher of pang hong. Pang hong was the mastermind in causing wong wenying death and the wong family to flee to jiangnam. It funny why enemies daughers are always so sweet and understandable. Aren't they supposed to be vain and cunning like their father as in the saying..like father like son, in this case, like father like daugher. Funny way why it done this way.
6) *shoo* shoo* Why so many of us cannot stop you for bumpin your head to death....
Wenying second wife commit sucide by bumpin her head against the pillar outside her husband house when she saw wenying had died. The funni part is there were lot of other ppl inside the house too. When fengling (the second wife) screamed that she wished to join her husband, the other reacted v slowly until she got a bleeding head that result in her death, then they all rushed out of the house. isnt they having snail step or will it be better if fengling choose a better way to die instead of running out of the house with no one stopping her. Wenying mum also died bumpin her poor head against the wall.. funny how easy is it for ppl in the past to commit sucide by bumping head. Wenying mum commit sucide as she was the one that cause the flying horse to lose its magicial powers. Once a woman touches the horse stick, it will be as useless as any normal stick. So When wenying realise his horse is useless, he fainted while his pathatic mother went back into the house to bump her head. *Ouch* One bump is all they need to die, isnt it painful if u did not die and end up with a bandgage on your head.
The casts even include a UY4 student,周孝虹 that cast as a wife of the main lead v well but somehow i find her face miserable.Most of her are crying, worry and whinnin to her husband. More of her profile in:http://www.yzu.edu.tw/E_news/304/famous/01.htm. I find yang lihua ok since it was say her role in this 2003 production are fewer as she did more on backstage production. Overall since this is her production, of course, she did a wonderful job in this repeat series.
My favorite actor is the lead cast: 陳亞蘭 as 小生(female as male role). More of her profile in:
mxn.idv.tw/stardom/Female/Taiwan/
Chen_YaLan.htm
boxup.com/big5/music/singerinfo/2/singerinfo81.htm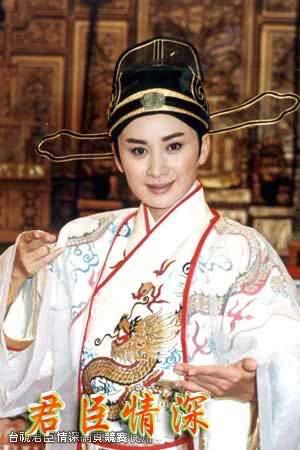 'handsome xiaoshen'陳亞蘭 look in this drama
I am super surprised boxup.com had her profile. I never seen yang li hua profile in boxup.com considered how many songs she has already sing. ha.
Not only she is able to perform her role as a male v well, i find her acting to be real good. Her teacher, yang in this case did a excellent job in training her since she joined the troop 18 years ago. Wow, still look so young and her photo in boxup if it is correct as it is taken now instead of 10 years ago is v beautiful. I mean like jolin tsai pattern.
Here the main cast list:(comments are what i find the casts like)
source:
http://home.kimo.com.tw/ava7382/MAIN_01.htm
宋仁宗 ( 楊麗花 飾 )
瀟灑俊朗、英明睿智、生性好動、常微服出巡,巧遇王文英後,藉「竹蘆寶馬」之助,常相偕出巡夜遊,兩人遂成莫逆。
( comment: a silly emperor that act like a child)
王文英 ( 陳亞蘭 飾 )
文武全才,為惡奴及奸人構陷,身負國仇家恨的他,在機緣巧合下獲得「竹蘆寶馬」,誤降皇宮,與仁宗認識,藉與仁宗出遊時,暗察奸黨,受仁宗器重。
(comment: My favorite cast, wonderful performance as a male)
皇 后 ( 許秀年 飾 )
仁宗妻,母儀天下,端莊賢淑,對仁宗知之甚深,兩人夫妻情深,因感於文英之忠心,常為其解除危機。
(comment: what the world going to be without her)
何 才 ( 紀麗如 飾 )
宋仁宗的隨身太監,對仁宗忠心不二。
(comment: A extra that add little bit of joy to the show)
辛月霞 ( 周孝虹 飾 )
文英指腹為婚的妻子,因看不慣父親辛俊叛國圖謀,遂離家出走。後與文英成婚,聰慧又善解人意的她,最為文英喜愛。
(comment: merisable version of desperate housewives)
辛秋霞 ( 楊淑涵 飾 )
月霞之妹,寬厚善良,與姐共同離家,後適高昭傑。
(comment: a follower of her elder sister)
寇鳳玲 ( 林佩儀 飾 )
寇準之女,高貴大方,惠質蘭心,同適文英。
(comment: i prefer her afterlife where she is called meigu as i like her stubborness where she refused to accept her status as the youngest wife. After all, she was the offical wife of the reborn wenying as she was the first one to marry wenying (chow hu) rather than the other two. in her first life, she is the xiaojie where all she did was depend on her father, the prime minister for help. )
高昭傑 ( 伊 正 飾 )
武藝高強,本性耿直,本是叛臣辛俊的手下,後在眾人規勸下愧悟,幫助王文英除奸衛國。
(Comment: I like him also since he had the role of a hero where he turned from bad to good v well.)
高昭蓉 ( 林衣倩 飾 )
昭傑之妹,慧黠靈敏,擁有一身好武藝,對文英有救命之恩,後與文英成婚。
(Comment: A headstrong gal in both first and afterlife. I dun like her but not as much as the first wife,yuexia)
龐 洪 ( 黃 龍 飾 )
龐太師,欲陰謀造反,故三番兩次陷害文英。
(Comment: a must have villian in every movies so that he will be killed in the end)
高如鳳 ( 童淑宜 飾 )
溫柔可人,是文英之子王伯東之紅粉知己。
(comment: how lucky to have a godfather that was important to the empire of song)
龐秋香 ( 莊金梅 飾 )
龐洪孫女,聰明慧黠,秉性純良。
(Comment: A clever gal that is every man dream to have but only in dream to have)
王安童 ( 陳志朋 飾 )
王文英的奴樸,在陪同文英進京趕考途中陷害文英,後又持玉環與婚書,冒文英之名赴濟南認親,文英幾為他所害。
(Comment: Another merisable actor that had minor role only in this show, he bit of extra)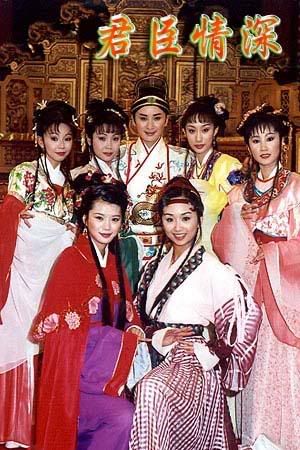 Female casts in this drama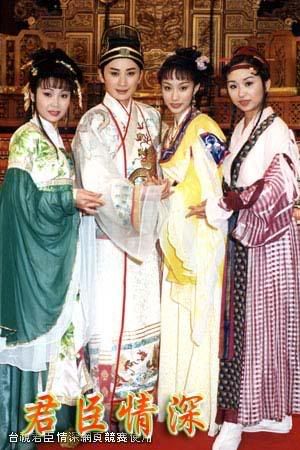 Wong Wenying with his three wives in his first life
Once i watch the first few VCDs, i wanted to finish the whole series. 君臣情深 is actually not a new movie. It is mainly a repeat of 王文英 or rather yang lihua earlier VCDs based on the same story line but in the earlier version, yang lihua is 王文英 instead of 陳亞蘭. I did not really watch the earlier version but my mum say of little addition to this new version where:
1) The emperor and 王文英 went outing and the emperor asked wenying if there even is an afterlife, how do they recongnise each other. The emperor say he will find wenying till he find him. Then wenying ask the emperor in their afterlife, who want to be female and whom is male. They then draw stick to decide whom is the female in their supposed afterlife. The emperor draw a shorter stick.
2) The emperor cry till his eyes bleed after learning of wenying death and he cannot find wenying family.
There are some other additions that i dun have a strong impression.
I also like taiwanese opera songs. In this series, 91 songs were sung.
The songs can be found in:
home.kimo.com.tw/lyhua.tw/c_music/c_index_b_1.htm
StoryLine: Taken from:

http://home.kimo.com.tw/mickey110827/story.htm
宋仁宗年間,山東濟南總兵辛俊,奸詐陰險,為當朝國丈兼太師龐洪之得意門生,龐洪之子龐昱平日
亦仗勢欺人,為非作歹。廣州王家原與辛家為世交之好,王文英與辛俊女兒
辛月霞自幼訂親,是年,王文英時屆弱冠,告別雙親,攜帶玉環婚書,前往
濟南府認親。夢中月霞卻經神仙指點,認親並非文英本人,次日一見王文英,
此人果然獐頭鼠目,看似貪財好色之徒,原來此人正是文英身邊忘恩負義的
惡僕安童,安童認親途中,奪取了文英的玉環和婚書,冀望藉此魚躍龍門,
月霞明知此人定是[ 冒牌貨 ],但鑑於父兄不明事理,只好收拾細軟,與妹妹
秋霞,喬裝出走。


成親之日,辛俊不見了女兒,只好以婢女頂替完婚,此時文英卻剛好硬闖辛府,拆
穿了安童的身份,卻也同時發現了辛俊巧設機關樓欲圖謀反的秘密。於是辛俊和龐
洪欲除文英而後快。京城考場中,出現三個籍貫父母相同的王文英,原來其餘兩個
王文英,一是代夫應考的辛月霞,一是負義欺主的王安童,經明察秋毫的包拯揭開
迷案後,月霞無罪釋放與文英完成婚禮,王安童則被問罪處死。文英經此一役,因
禍得福,更迎娶了宰相之女寇鳳玲與巾幗英雄高昭蓉。文英偶然獲得寶駒,名喚[竹蘆],此馬能飛天快馳,文英常於夜間騎馬南行,返鄉與月霞共渡良宵,
此事無人知曉。某夜文英騎馬出遊,巧遇仁宗,文英趁機呈報
辛龐兩人謀反罪狀,君臣商議後,縱馬夜巡,並命文英一一記
載辛龐兩人的陰謀事蹟。連日夜遊,仁宗晏起,耽誤早朝,龐
洪發難,指責文英妖言惑主,唯仁宗恩寵有加,不但不加罪文
英,反升他為龍圖閣大學士。


月霞身懷六甲,夫妻兩人相隔千里,如何至孕 ?婆婆以為月霞與人有了茍且之事A後經親眼所見,文英
之母才相信[竹蘆馬]之事。文英母好奇心起,欲試騎寶馬,卻不知寶馬忌諱陰人近身,至使竹蘆馬毀於
身下,文英母亦因此身亡。
寶馬一死,文英無法如期返朝,百官交互指責,仁宗恐文英畏罪自殺,
遣陳淵攜帶赦旨迎文英回朝,豈知赦旨卻遭龐洪篡改,王家一族死於非
命,獨留大腹便便之辛月霞。月霞產下文英的遺腹子王伯東,伯東身繫
國仇家恨,長成後,帶著文英生前所書辛龐兩人之謀反事實,赴京為父
申冤。伯東與龐洪辛俊鬥智鬥力,加上包拯范仲淹的協助,終於為父平
反,將為奸為惡的辛俊龐洪,繩之以法,大快人