Today, i woke up at 7.10am to cook for my furry pals, took them for pee/poo and do some housework. I did not sleep well yesterday, went to bed at 1 plus and kept hearing my living room's clock strike 2, 2.30 and 3 am. Then i fall asleep. I guessed i am excited about today's event.
Sister and I went out at around 9 and reached Ngee Ann City Civic Plaza at 10 for the AVA Roadshow. We said hi to
coboypb
and get to know
5-cat style
. We also get to know michelle, the president of CWS and we get to see dawn for the first time. Sister was telling me when we left the place that dawn looked a bit like Auntie Linda.. ha...
I do enjoy this whole new experience

Yes, i love chatting to cat lovers. There is this uncle that showed me a photograph of his cat that he told me was lost for sometime. This uncle thought that he can be able to find back his lost kitty in the roadshow - a bit like Finding a Needle in a Haystack since he do not know what had happened to his cat in the first place. It is just missing. He said his cat is like family member to him - it may be killed.
There is another auntie that kindly donated $20 to the society and then she told me that all tipped ear cats should not be caught and put to sleep. Apparently, her TC caught tipped ear cats and she was very annoyed with them.
Sister talked to a teacher whom said her students kept bringing her homeless cats and the teacher kept sending them to SPCA as she do not know what to do with homeless cats - so sad, one good deed leads to unknown fate of the poor cats.
We met Jean Danker from Class 95 whom is also a cat lover- oh, she is so friendly and sweet, i liked her. We sold lot of T-shirts. We also visited the other booths.
This is how our CWS booth looked like.



You can see our T-shirts, mugs and bookmarks...no photos of me---ha...


I think this is the Rabbit society that had only one rabbit inside the cage. Her fur is extremely soft.

Extra-Large posters at the roadshow... The calico looked a bit like DD except DD do not have black patches on her face.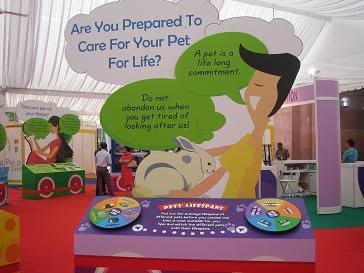 Do not get pets on impluse..A Pet's For Life....
After We left at 2 pm
We left the roadshow at 2 pm and took the train already to AMK when sister said that she need to make payment at Bishan sport hall as today is the last day for the dicount fees. We took back the train and took a long walk to the sport hall. Then we ate lunch at 3 pm at Bishan before returning to AMK. Back at AMK, sister bought a pair of shoes from an extremely rude sales assistant asked sister to find her own shoe size just because the SA was not in charge of that area. This is what so 'high standard of customer service' that singapore is trying to promote. Anyway, sister still bought the shoe.

Next, we went to look for handphone. Both sister and I are still using the 'ah-ma age' phone with no colour, no WAP, nothing but the type of normal phone that you used at your home. We visited 4 to 5 outlets..some of the SA looked like 'ah-beng'-smoking and chatting with some similar 'ah bengs' and we choose not to go to that store. We finally went to a mini-store. The phone i liked is not in sale so the SA asked me to buy another type -motorola L6. Sister, a die-hard fan of Nokia also ended up buying the same phone as me as it is much cheaper.

When we reached home, sweetie is very happy to see me, she rolled on the floor. KK meowed at me to demand for food. Mum told me that she had feed all four of them dry food. Sweetie had a panic attack later at night when clumsy sister dropped a metal cover on the floor with a loud crash. Poor sweetie hide under the sofa for half an hour and then jumped to her favourite sofa to sleep. Sister then told me to sayang sweetie. DD is now still at the kitchen waiting for the lizard family - dad, mum and babies lizards to appear. Last time, i found DD playing with a lizard's tail. I told DD that Missing tail lizard had told his/her family not to appear before you. Every night, without fail, DD will wait patiently in the kitchen.