Jennifer say:

24/01/2013★农历12月13日★Thurs
Today Getai Star: 2★( 5 stars the max)Temple is super cramped. I had to sit at the main praying altar to watch getai. I can watched the stage clearly but for video taking, i am still blocked by pillar and if i zoom in, the singer face kena blocked by temple lantern tail. My purpose tonight is just to watch Tian Yue sing so i had went alone. From my side to AMK, i am able to reached within 35 min by walking fast.
★Time watched: 7.45 pm to 8.35 pm. I left after you min shan sing her second song.
★Favourite Singer: Tian Yue. Took videos of all his four songs. Love all his songs tonight. Videos are not that well taken as i am in a side position tonight.
★Host Tonight: Xi Xian - he is okay tonight. I like how he always ask to sit at empty chairs.
★Today Crowd: As the temple is rather small, i think it reduce the number of crowd also. Most people stay outside the temple or the side of the temple to watch.
★Videos upload to youtube: Upload 4 videos tonight. Can see some frames are blocked by the lantern tails. Anyway, i took videos so that i can listen to Tian Yue songs in my office PC as well. I am rather addicted to listening to Tian Yue Playlist in my youtube account. Nowadays seldom listen to Hao Hao playlist now.
★Sidetrack: On Tuesday 22.01.2012 on around 6 30 am, i saw on fb that ah Nam had died. So sudden. Part of me is rather sad esp that now i am more active in watching getai. When Lin Li and Chen Jinlang died, i did not feel any sad feel at all. Life is so short for some people. I was still watching his host two weeks ago and on Tuesday, he was gone. Life is so unpredictable. Treasure all your loved ones esp your parents.
天悦 ~ 财神到我家 (I like this song, i am hoping the other day at Blk 409 that Tian Yue will sing CNY song. My wish is fulfilled tonight. Nice song
天悦 ~ 两条路上 (My favourite song tonight..i super like this song)
天悦 ~ 针线情
天悦 ~ 追追追
My location
Yuan Jin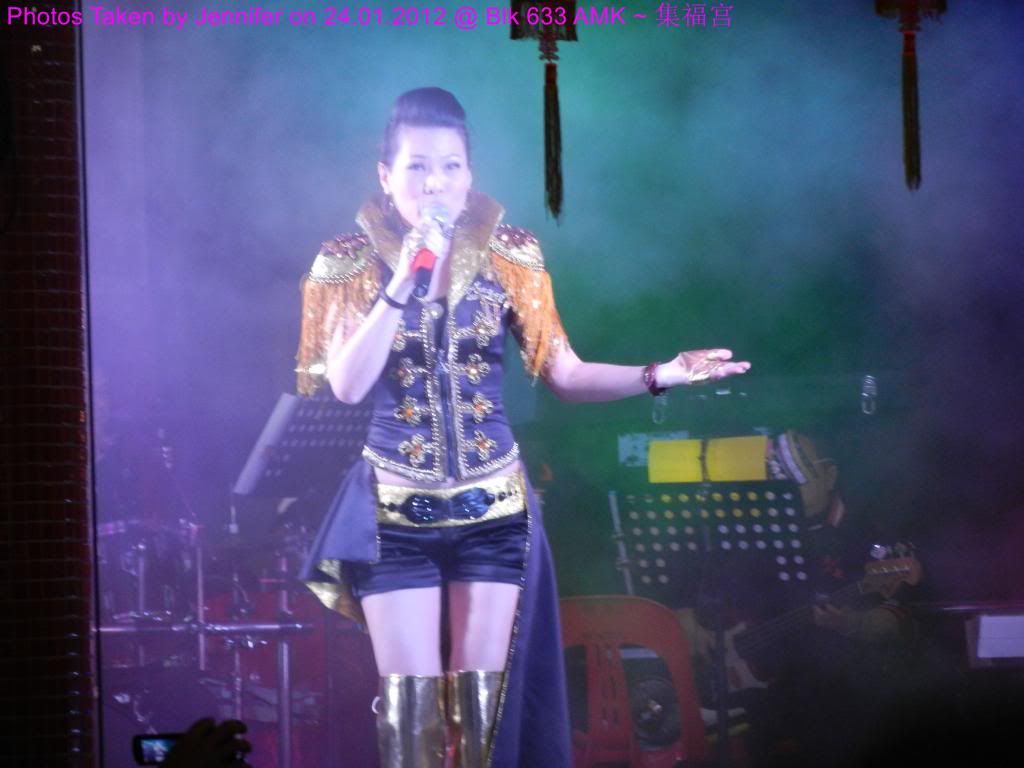 You Min Shan, she sing 1 CNY song and repeated 1 other song so decided to leave early as my position is not so good for video taking anyway.But i like Min Shan, she is a good singer.