Jennifer say: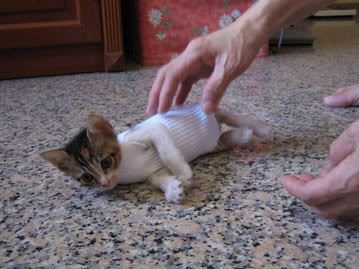 This is our new kitty--she v sweet too.. how we adopt her..long story..
I did not put this in my blog abt her mummy as it v sad..her mummy was killed and i assumed someone poisoned her mummy.
We found the family of cat--mummy and three kittens behind the water pipes of blk 547 on Friday, 16 Oct 2005. That day we were goin to chinatown to shop for some mooncakes when i spotted the kitties running..i went to see them..so cute..one blackie(all black kitten) ran to the lift area and i put him back to mummy. The kittens:
1) a black kitten--pure black( we named him blackie)
2) a black mix kitten--mix with black and mummy brown colour(we named him mix mix)
3) brown kitten--clone of mummy(and the only female--Tortoise-shell as what the colour of hers look like)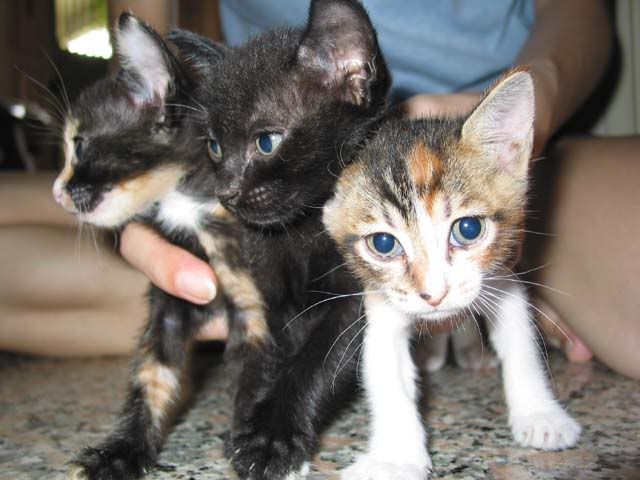 Here their picture..duno why blackie looked like one of the ghost in ju-oh..without jaws ghost..errie...but anyway blackie is the biggest of the pack, mixmix is the youngest and TS is the middle
I then called cat auntie..she then told me to take the cats(mummy and three kittens)..we at first took them to the area near the park..then linda said kids may seen the kittens..so we transferred them to our block void deck..
Who know,saturday, when i went earlier to see the family, mummy cat was dead..leaving three babies...
i had no choice but to take all 3 to my home..I raised them for 2 weeks before blackie and mixmix are send to adoption on saturday, 1 Oct to a malay family.
I do miss them but it for their own good..better than ending up strays if we cannot had them later on when they grow bigger.
Everyday, we feed them thrice, clear their pee and poo, played with them.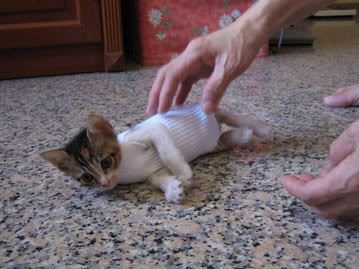 If u remember this first photo of TS, she in a sock.. ya..specially made by mum for TS.. it because this little fellow try to be temp mummy for her two brothers..she allowed them to suck her nipples till her fur did not grow..when we dress her in a sock, her two brothers suck her legs and hands..so poor things..
Why i decided to keep TS..maybe it is fate..fate arranged for the cats' mummy to find a human friend to help save her baby kittens as if the mummy knew she was dying..i am sort of chosen to help them..I mean so many ppl passed by the area, no one bothered to take care of them..till i happend to pass by the area at that time when the cats were there.At first i love blackie whom seem to be the most active..then i started to love TS whom is much calm and tamer..actually all of them are tame since they just kittens..but there is just that one kitten that stand OUT above all three. that is TS.
Well..TS is now looking for a new name so we can call her..sweetie is goin to accept TS whether she like it or not since i like TS v much too..
Well..talking abt Linda, mum pissed with her today..Linda make us walk to her block and then tried to make me help her carry the two kittens to the malay family till mum protested and objected..
Well...the 3 kittens or rather the two (blackie and mixmix) have been waiting for new homes..and how we attempted to try to find new home for the kittens
1) At first, linda daugher said her teacher wanted all of them..but on mon, 19 sept, linda said the teacher changed her mind as she goin to shift house (##@@##@ what is changing house goin to do with adopting new cats..it just a excuss to avoid hurting linda daugher by rejecting directly saying: Sorry, i do not want any cats..eee)
2) 20 sept :then linda called me to say some one wanted blackie..yippe.. but she said she wanted to find a new owner for mixmix before seperating them. at that time, i also told her i like TS so i wanted to keep TS (##@@##@ , now thinkin back, i wonder why the delay..it is true that it is good to keep them all three together, but since blackie has owner, should have taken him to new home asap)
3) 20 sept nite: then linda took a guy called : herbi (strange name) to see the kittiens..and fotos were taken..snap snap..opps..poor kittens eyes hurt..and herbi said he tried to see if anyone wanted the mixmix
4) 21 sept nite: herbie wife came to our house to see kittens..took fotos again..yet again..
5) NO news from herbi, his wife nor linda...
6) for one week no news..till 26 sept monday..linda said her malay friend wanted to collect blackie on tue..
7) come tue, linda said her friend need to go mosque, can she came to collect on thur
8) thur morning, linda said her friend busy.. stupid excess..she said her malay friend need to cook for her family..blah blah blah.. erm, i though earlier linda said her malay friend got to go mosque, now need to cook for dinner..
thur nite:Ah jia cried..she cannot bear to lose blackie...I called linda..she said to decied if wan to keep all 3 kittens or one..then she will called me on friday to find my decision, if she did not hear from me, then she will collect them on weekends
9) friday, 30 sep, did not hear from linda..so i assumed she will be comin on sat or sun
10) today, sat, 1 oct, mum asked me to calle linda..that lucky that i did.... linda had the guts to say i should called her earlier on friday to make arrangement..hello, now she is the middleman that agreed on sat or sunday, now she said i should called her on friday to arrange..eeee...she then make us took the kittens to her block at 528..mum got bitten by blackie when she tried to push his little head back into a plastic bag..mum carried them by muttering sayang sayang to them..once we meet linda, mum put the kittens into linda basket..linda then started to ask me help her carry the kitten to the malay house..as she carrying LOT of things.. well..one two plastic bag..if she knew she goin to carry basket, cant she just leave her plastic bag at home..so she got free hand to carry..
Well..mum said linda is extremely strange..why she always refused to carry cat..that time i also help her carry ginger to doris house... and now this... not forgetting that time, i helped her carrying the cat mummy while mum carried all 3 kittens to our block, linda onli helped mum carried ONe when mum cannot managed..so funny
Well..i keeping on a progressing chart on my blog for TS..and a new name also..maybe will called her DD..hee after DD bear in Golden Faith