Jennifer say: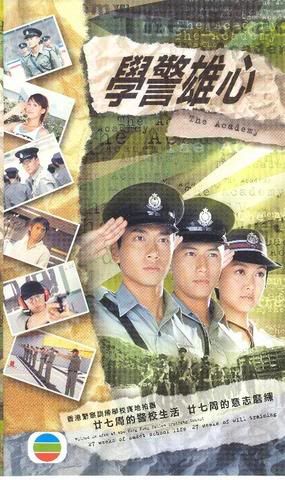 Noted: spoliters included for those whom did not watched this show...And i placing chinese character in this blog for the actor names only and i think it going to come up in symbols as usual but never mind since i can preview it myself..sorry for the funny symbols.
I had just finished esp 29 to 31 of TVB: The academy. It's a v nice show. When my sister was in HK in Feb, HK was already showing this show and my sister was telling me how good is the drama.
What is the drama abt:
A group of newbies 'adventure' in police academy, this drama show a very detailed info of the training in the police academy for 27 weeks. Unlike other police detective drama like 'Detective Investigation Files' or 'Armed Reaction', the drama do not have any major crime investigation where the CID need to solve. Instead, the drama shows heart-warming cases of the newbies trying to learn to be a good policemen/women.eg
1) A woman cadet whose father would soon be chased out of the house because of the amount of junks the dad kept in the house. Upon learning abt the woman cadet plight, the fellow cadets helped to clear the house for the father.
2) A son who try hard to become a police realised that he had minor depression that make him unable to fulfil his father's dream of hoping his son to follow his footstep to be a policeman. The father realised his son was not happy with the stress of becoming a policeman and allow his son to follow his dream that is to set up a business.
3) A cadet completed a race against a rival class..even when the cadet know he will lose the match, he carried on running despite a bleeding knee and eventually completed the race with the cheers of his classmates
These are just little esp that make this drama so warming..i cried or had 'red' eyes on several parts..towards the ending, i was crying also.
Here the real spoliters:
Toward the ending, the cadat's coach'Lee' was killed. So sad, i wonder why the production must make Lee died when firstly,
Lee just found his long lost son,
secondly, his first love finally agreed on a date with him...but sadly before all this could happend, he died.
I cried for the parts where
1) at the hospital, Lee hold his hand out to his son and said' sorry'. Lee never knew he had a son because that time, Lee's lover left him without letting him know. It was the son's grandfather whom told Lee.
2) The Class that Lee taught at the police acadmy heard of Lee's news in the cafe.
3) The class realised that Lee had died in the duty
4) The part where Lee son's recall what Lee had done.
Here the lead character: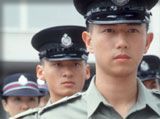 韋柏翹﹝陳鍵鋒飾) Sammul Chan - Lei Pa Kiu
He's Lee son. He only learnt of his birth father when Lee died. Pa Kiu hide his feeling a lot but it was Lee that taught him to reveal his inner mind. Pa Kiu entered the police academy because he need to earn money to let his grandpa had a better life. His mum died in the US and when he returned, he joined the academy. Pa Kiu's love is Fiona,Ma Hoi Lum. At first, Pa Kiu did not want to date with Fiona as he think he cannot match Fiona in term of family background. Fiona was a rich girl and Pa kiu grandpa worked as a gardener in Fiona's house. At a dance party, Pa Kiu scolded Fiona for forcing him to have the first dance with her. They began a cold war before Pa Kiu eventually realised that he loved Fiona and wish to date with her.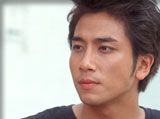 鍾立文﹝吳卓羲飾﹞ Ron Ng - Zhou Lup Mun
He is the rush type of person that act without thinking before his police academy coach, Lee turned him into a nicer person. Lup Mun entered the academy because he wished to anger Lee (the academy coach). Lup Mun 's parents was ungoing a divorce and in order to prevent Lup Mun from trying to make Lup Mun to reconcile the dad to the mum, the mum lies that Lee was counting her. This created a misunderstanding where Lup Mun hated Lee. Toward the end of the show, Lup Mun realised that Lee was actually a good coach. This was only when he realised that his dad was cheating on his mum and all along, Lee helped his mum by mental and financial support. Lup Mun love Ho Fa (Tavia Yeung). Their love did not come easily and smoothly because:
1) Ho fa's brother was jailed when Lup Mun caught him pickpocketing in the street
2) Ho fa's whole family were pickpockets for an additional income
Eventaully, Ho fa become Lup mum gf as ho fa's family supported her decision esp her brother whom told Fa to pursue her true love.
李文昇﹝苗僑偉飾﹞Lei Mun Sing (Michael Miu)
He was the coach at the police academy. He was very strict to the cadets because he wished them to have self-discipline and take the training seriously. He and pa Kui livin in the same house. Pa Kui's mum was Mum Sing lover before Pa Kui's mum left Mun Sing.Pa Kui or Sunny loved Lup mun's mum, ivy. Ivy did not accept sunny's love as fear of rejection from Ivy children's Lup mum and miki. Sadly, on the day Ivy accepted sunny love, sunny died.Their love was somehow a drag in this show...i did not really liked to watched the love development of them.
I esp liked the part where Pa kui and Mun Sing chatted in the house. At first, Pa Kui did not speak to Mun Sing but soon, they began to chat and went out together to fish. Pa Kui was in fact Sing real son. Mum Sing only learnt of the truth when Pa kui's stepfather tried to cheat Pa Kui's money and told him that Pa Kui was not his real son. Pa Kui never know that his current dad was not his birth father till his grandfather revealed the secret. Sadly, Mun Sing died of a gun wound.
馬靄琳﹝薛凱琪飾﹞Ma Hoi Lum (Fiona Sit)
Fiona (as in her real name) was quite cute in this show. See how short is her hair. Girls cadets need to shorten their hair when they entered the academy. She entered the academy as she wished to meet her hero, Mun Sing. Mun rescused her from a trapped car two years ago and since then, Fiona wished to become a policewoman to meet her hero. Fiona was a super rich girl and her mum opposed her to be a policewoman. Fiona loved Pa Kiu and tried very hard to win him. When Fiona's mum tried to matchmate fiona to a rich man's son, Fiona objected to this badly as she know that she only love Pa Kiu . At the annoucement of a supposed marriage proposal, fiona purposly invited Pa Kiu for a first dance that Pa Kiu rejected immediately. Pa Kiu was not happy that fiona embarrassed him by asking for the first dance unprepared. In truth, fiona invited Pa Kiu for the first dance as she wanted Pa Kiu to know she love him. After their cold war, their relationship turned better and they ended up together altought pa kiu asked fiona to wait till they completed their 27 weeks of training to begain their offical dating. Fiona was duped twice in this drama by her stupid handphone:
1) kidnapped when Ho Fa's brother got fiona hp number and asked her for a coffee chat. in fact, Ho fa's brother owned money and was forced to duplicate a key from fiona.
2) Duped of $10 000 from Ka Kiu's stepfather whom try to get fiona hp number by asking to call her phone to his own phone, thus getting fiona's number. Once getting the number, the dad asked fiona to lend him $10000 for a deposit on a US farmhouse that do not exist
In real life, Fiona is a popular singer in HK.
何花﹝楊怡飾﹞ Ho Fa (Tavia Yeung)-
Ho fa was born in a family of pickpockers. I do not want to mention more of her characters as i am rather sick of her face. TVB seem to use her on almost every drama. She loved Lup Mun and they ended up together with the support of both their families.
more on this show:
http://tvcity.tvb.com/drama/the_academy/story/index.html
http://come.to/moviereviews
http://www.tvbsquare.com/TVBextras/theAcademyReview.htm